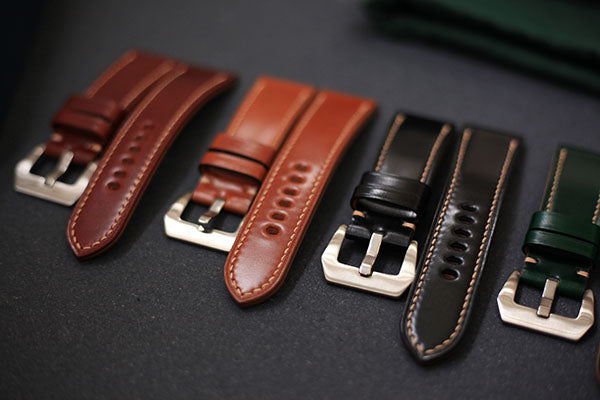 Five Things To Aware When Choosing Leather Watch Straps (Updated 2021)
Most people have selected leather watch straps. Watches have become one of the most common accessories of most people nowadays. And for some people, collecting watches is a hobby that helps them chill out in their spare time. We love watches and consider them as an essential accessory for your style. There is no denying that the correct watch strap not only honors the beauty of your watch but also shows off your style. 
Nowadays, there are a variety of watches from famous brands like Rolex, Omega, Seiko, to smartwatches like Apple Watch. Each type has unique watch bands, so choosing your strap wisely will help you define your watch's look and feel. 
Why Wear Leather Watch Bands? 
There are three common kinds of watch straps: Metal, rubber, and leather watch straps. Each of them has different advantages, but these are some reasons why we recommend you to select leather watch bands for your fantastic watches. 
Leather watch straps are soft and light
Leather bands are pretty comfortable for people to wear. The leather material itself gives you a light feeling and softness. Also, these leather straps are both durable and flexible. They can be adjusted according to your wrist size, which is greatly convenient for people who want to wear them in different ways or for those who give watches as gifts.

Leather straps could match your outfits easily
Leather straps are made from a variety of leather types for you to choose from. They have many types, such as Togo, Chevre, Epsom, Relma, etc., that can suit your outfits and style, especially you can choose from those watch bands to match your belt or shoes. 
Leather watch bands prevent from coming undone suddenly
These watch straps usually go with a buckle system to avoid the watch pin from being undone unexpectedly. This makes sure your watch sticks to your wrist, and you can enjoy active outdoor activities without having to worry that your watch will fall off. 
5 Thing To Aware When Choosing Your Dream Leather Watch Straps
We give you five tips to choose your leather bands. Let's begin with the first one:
1. Choosing material depends on your watch brand
Each watch brand has a different style. Understanding the world of that watch type will help you dress suitably. For example, you should not choose a thick electric sharkskin strap for a vintage Omega watch as they don't pair together. Calfskin leather seems to be the best suit for most watches, daytime or nighttime. Calfskin is considered the premium material for watch bands as it is pretty classic and comfortable. 
Here are some recommendations watch straps leather types for you: 
For elegant watches, calfskin leather or fine exotic are good to go. 
For military watches, leather Nato straps are not worn out easily and match the vintage style. 
For Minimalist Watches, leather made by exotic skins such as alligator or lizard is a great fit.  
Although canvas and nylon watch bands fit this watch type for field and pilot watches, leather straps can be used equally to give you a good look. Field and pilot watches are designed to be relatively clean and easy to read, so a good vintage leather strap with contrast stitching will be a perfect fit. 
2. Picking watch bands that suit your style 
We all know that each watch and watchband reflects your personality and fashion style. Selecting leather watch straps that show yourself would definitely make you more confident every time going outside. 
You could choose the type and color of your watch bands that match best to your watches. Just aware that you only need to add color to be a hint for your artsy looks, don't overplay. Look at your wardrobe to start choosing colors that complement your outfits. Here are some ideas from Basic Bands for you: 
Black/Grey/Monochrome clothes: Choose black & grey straps, or add a small dose of color will be good to go.
Blue/Cool Tone: Light to medium brown is excellent, or you could choose blues/navy as a color to match.
Red/Warm Tone: Medium to dark brown and black are a good fit.
Earth Tone: Browns, olive drab, earthy grays will be great with this clothes color. You could try adding black or brighter colors to have a contrast.
3. Aware of your strap's finish
Many low-quality with coarse finishing and random stitching will ruin your watch's beauty. You should pay more attention to the fineness of leather straps as well as the material used. Look carefully at the stitching. About the edge dyer, the color needs to be even and matt after two coats. The more refined contours of the strap, the more value it will add to your watch.
4. Choosing your watch straps length
Most straps are tapered with a 20mm lug width in the end and 18mm width where the buckle attaches. If you have a bigger wrist that requires a longer length, you could select a bespoke watch bands maker to design and make you a suitable leather strap. 
5. The buckle of that leather watch band
When you purchase a watch strap, it always comes with a buckle. A high-quality buckle not only makes your watches more stable and durable but also adds value to your strap. To be sure, you should ask the manufacturer for the original buckle Watch strap and hardware intact are elements that define the watch's value, so you should keep them in a safe place even when not intending to use them. 
Some watch straps makers use deployment buckles, which require straps designed for this buckle, so you need to check the straps' specifications to ensure the deployant buckles adaptably. 
Conclusion 
While many people use watch straps that come with their purchase, others often love changing watch straps. Watch straps are like-new accessories for watches, and they reflect your style, personality, or even your mood. 
After listing five prior things you need to be aware of when selecting your leather watch bands, we hope you could now choose your favorite leather bands. Each leather watch strap will give you a different feeling and confidence. We hope you will have the best leather watch strap collection for your watches in the future.