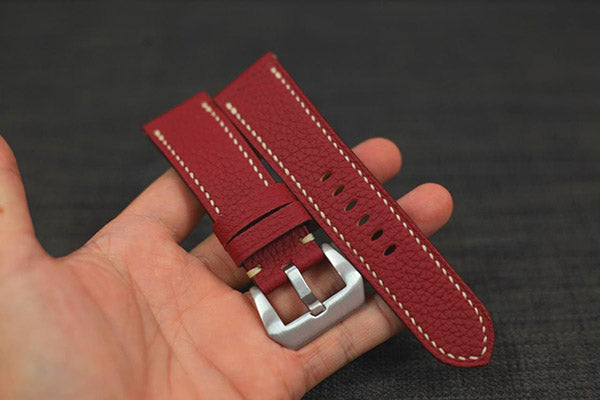 How To Clean A Leather Watch Band Step By Step
Cleaning a leather watchband is the thing most watch owners consider. Your leather watch straps would be more durable, long-lasting, and look new with the proper care and cleaning. Check out this article to find out the best leather watchband cleaning way. 
Reason You Need To Clean Your Leather Watch Strap
Usually, leather will not be completely waterproof, so it can be damaged when put in the water, under direct light or heat, or in wet places. You could view some of our articles about the characteristics of some leather types. In addition, after a period of wearing, the leather absorbs the dirt, oil, and sweat from your skin, making it smelly and requires cleaning. That's why you will need to clean your watch bands regularly. 
How Often To Clean Your Watch Bands?
Once every two weeks is good to go. On hot days or humid days, you could increase the frequency of cleaning your watch straps, as the skin sweats more on those days. If you frequently wear your leather watch bands, wiping them every day with a soft cloth will help you clean them better. 
How To Remove The Smell Of Your Watch Bands? 
The first step to remove your watch straps smell is to leave it for a while. Overnight is suitable and enough time for the strap to breathe. Because leather absorbs the dirt, sweat from your wrist, or any liquid it contacts with, it will appear odors if you don't let it breathe. To prevent your watch straps from smelling, you should put them in a cool and ventilated place for some time. In the next step, you could clean your watch strap by the steps below. 
To prevent an unpleasant smell, you shouldn't wear your leather watch band when participating in activities and lots of movement activities. Instead, you could replace your leather strap with a rubber strap whenever you join those activities. However, in some cases, you don't want to remove your leather watchband. Then you could use a wristband to absorb your sweat and prevent the sweat from contacting your watch band. 
How To Clean Your Leather Watch Strap Step By Step
These are six steps to clean your leather watch bands. 
Step 1: Take the watch strap off your watch and wipe both sides of it with a dry cloth. You might need a spring bar tool to remove the watch straps. Note that you should use a soft microfiber towel or cloth to clean because it doesn't scratch your leather strap.
Step 2: Give a tiny drop of mild soap to a damp jewelry cloth. If you don't like to use mild soap, baking soda is a great alternative. Give a small amount of baking soda into the water and apply it to the cloth. Just make sure the cloth is damp and not wet. Next, use that cloth and gently wipe the leather strap in circles on two sides of your strap. Wipe from one end to the other. For the area that has dirt, you could apply slight pressure in wiping. 
Step 3: Using another damp cloth to wipe out the soap and dirt on the leather. Just remember not to put too much water on the cloth, as the leather will absorb water, making your leather watch band less durable and damaged. 
Step 4: Leave your leather watch strap in a cool and dry place to completely dry. Avoid letting it under direct sunlight or direct heat. For example, never use a hairdryer to dry leather strap, as it will shorten your leather strap life and make it easier to crack. Note that you should not make your watch strap stretch (for instance, by applying it to a watch face or wearing it) while it hasn't dried yet as it will make the leather damaged. 
Step 5: You can wear your watch strap again once it is dry out. 
Step 6: After cleaning, you could care for your leather watch band by using a leather conditioner to increase the durability, longevity and maintain a good look of the leather. Follow instructions to use conditioners from the providers to have the proper care and condition for your leather bands. 
If you don't wish to use leather conditioners and you want to moisturize and protect your leather strap from cracking, you could add a layer of high-quality lip balm to the back of your leather strap. 
Some Leather Watch Strap Care Tips 
You should limit contact of the strap with water. For example, take off your watch when bathing, washing hands, or playing sports. 
Avoid wearing the strap tightly, as it could make your strap strained and crack quickly.
Put your cosmetics, such as perfume, creams, etc., away from your leather strap because they could discolor your leather watchband. 
Conclusion
At Aug Leather, we use high-end leather to make premium & stylish handmade leather watch straps. If you consider selecting a watch strap, you could contact us to consult about watch straps and cleaning ways for your watch straps. 
Those are some tutorials for you to clean your leather watch straps. After reading this article, we hope you finally know the right way to remove the dirt and give your watch bands a new look, making your watches more beautiful and shiny.