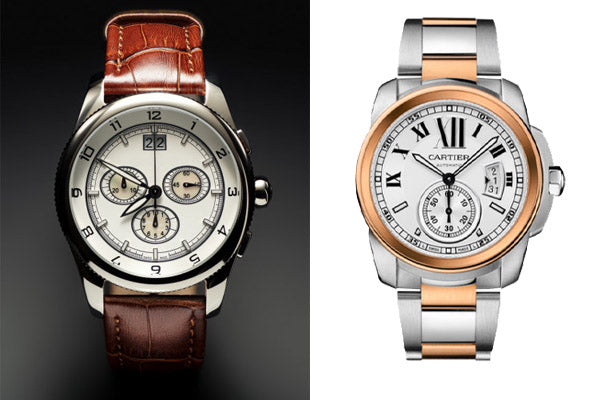 Leather Or Metal Watch Band - Which One Should You Get?
Leather watch band or metal watch band? Each material of a watch strap has its advantages & disadvantages. The leather watch strap is soft and has many options, bringing a chick as well as an elegant and stylish look to your appearance, while the metal watch band is long-lasting and firm. So which one is most suitable for you? Find out this article to find the best material for your watch bands. 
Leather Watch Band
For most people, wearing a leather watch band is more comfortable than a metal one, as the leather is softer to the touch and can be adjusted to fit the wrist. Furthermore, leather watch straps have a variety of colors and leather materials, giving you more choice and showing off your style and interests.  
For some occasions, a leather watch band is good to go because its color would fit your belts and shoe color, adding a layer of luxury and politeness to your outfits. Matching the colors of the leather watch straps with your leather belts, leather shoes, or other accessories will take your appearance to the next level. 
High-end and stylish leather watch bands with appropriate prices can be found in Aug Leather. Every leather type with its unique characteristics, and our craftsmen who have a lot of experience in leather production, Aug Leather's handmade leather watch straps become premium, elegant, and stylish, which reach the world standard.
Leather Watch Band Pros & Cons
Pros
The watch straps could be made from various leather types and colors, which expands your choice and ways to match with many outfits.  
It's easier and simpler to adjust than a metal watch strap, giving a relaxing feeling to your wrist. 
The leather watchband is softer and gives you a more comfortable feeling when wearing it. 
Cons
The leather will wear out over time. Although some leather types, such as Crazy Horse leather, look better and better when aging, many other leather types require the proper care and cleaning to maintain their original look.  
Most leather types can be damaged when contacting water or liquids for an extended period, under direct sunlight or heat, or in wet places. 
Things To Aware When Choosing Leather Watch Straps
There are plenty of faux leather watch straps sold in the market, so you need to be cautious when selecting high-quality leather straps. In addition, when choosing a leather watch strap, you should consider the watch band styles. 
For formal clothes, a watch band with simple patterns would work the best. However, other unique motifs on leather watch strap surfaces can help you show your style and personality. Check the watch strap color rules to match the watch straps with your outfits. 
You should also be aware of your watch brands to decide when choosing leather watch straps and the watch strap's finish (for example, the stitching, the dyeing, etc.) to get high-quality leather straps. 
Metal Watch Band 
In contrast to leather watch bands, it's unlikely for a metal watch strap to crack or break because of its sturdiness and durability. A considerable advantage of the metal watch band is its water resistance. You could wear a metal watch strap even when playing vigorous sports, as it doesn't absorb sweat and isn't stained. However, it will appear dirt in the corners and gradually lose its luster after a long time of wearing. Metal watch bands also look stylish and relatively easy to match with your outfits. 
As the watch strap is made from metal, it could give off the heat if you leave them in greatly hot or cold places, making it unpleasant to wear at that time. Adjusting a metal watchband to fit your wrist is also more complicated than a leather one. You will need some tools to remove the links and then modify the strap. Metal watch band clasps sometimes come undone when they get hit hard and suddenly 
Metal Watch Band Pros & Cons
Pros
Metal watch bands are exceptionally durable and don't wear out over time. 
Metal watch bands could be wet, and you don't need to worry about reducing their lifespan or breaking it. 
Cons
It's not convenient when you come to adjust a metal watch strap to fit your wrist. 
Metal watch straps will absorb heat if you let them in areas with too high or too low temperature.
The watch pin could be undone unexpectedly, which could make you annoyed. 
Things To Aware When Choosing Metal Watch Straps
The color of metal watch straps is the thing you care about when selecting your straps. There are two common colors: Gold and silver. These two colors are considered to match well with most of your clothes. Gold metal watch strap seems to be a perfect fit with earth tone outfits, while silver metal watch strap works best with black or blue outfits. 
Conclusion
Nowadays, many other materials make watch straps, such as silicon watch bands, wooden watch straps, nylon watch straps, etc., for your choice. You could, of course, try out those watch straps to find the best match for your preferences and needs.
We have shown you the most highlight things about leather watch bands as well as metal watch bands. So which type of watch band is right for you? Depending on your likes and each watch band's characteristics, we hope you have finally chosen the fittest watch straps. Every material has its pros and cons, so rely on that to make the best choice.