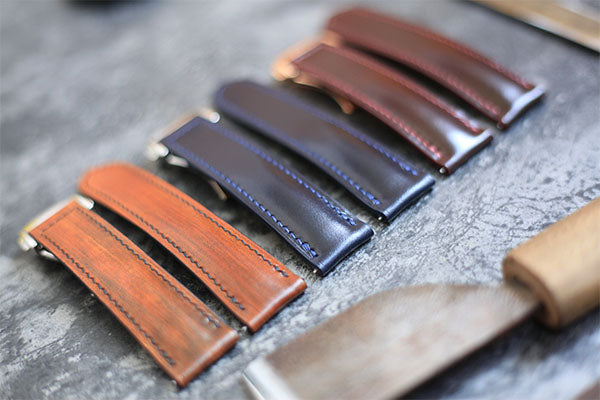 Watch Strap Color Rules - Choose Color For Your Watch Strap
Choosing a color for your watch strap might be challenging. With these watch strap color rules, you would pick the perfect color for your watch strap. Watches nowadays have various colors, so the correct watch strap color matching helps you show off your fashion style and become a professional designer. 
Especially if you are watch collectors, you might need to pick many watch strap colors according to your watches, making your collection more valuable. 
Watch Strap Color Rules: Pick Color Matching Watch Dials
The first watch strap color rule is picking watch strap color according to your dial color. The dial is the most crucial thing about a watch. Yes, you could select the watch strap color to match your dial. We recommend you choose a color that has contrast to your watch color dial. For example, brown watch straps would go well with a black dial. These are some ideas and watch strap color rules for you to choose a color:
For white/silver dial: You could select dark blue, brown, gray, and dark green watch strap color
For blue dial: You could choose medium gray, brown, and black watch strap color 
For green dial: You could select gray, cream, light brown, and tan watch strap color
For black dial: You could choose dark blue, gray, and medium brown watch strap color 
You should note that don't pick multiple colors for watch straps if you have a busy dial, as it would make your watch look confusing and messy. 
Watch Strap Color Guide: Choosing Color Matching Wardrobes
Usually, most people select a specific color for watch straps. One piece of advice here is that you should see your clothes colors and then choose watch straps depending on your wardrobes. It is one of the excellent watch strap color rules, as you could easily match the watch strap with your outfits and get a great look. 
People tend to match the color of belts or shoes to be the same as that of watch strap color. It is a great combination. However, you don't need to select the exact watch strap color and tone. Just pick the color that is not too flashy.
Watch Strap Color For Monochrome/Grey/Black Wardrobes
For this color wardrobes, grey or black watch straps are good to go. You could select a minimalist watch with these outfits to make you more modern and high fashion. You can add some other colors according to your liking and personality. Just don't make it too colorful. 
Watch Strap Color For Cool Color Wardrobes
Matching navy or blues color with a cool tone wardrobe is always a good watch strap color rule. Besides, you could go with a light to medium brown or grey watch strap color. If you don't like these colors, then purple or green is a suitable choice. Just try those colors to find the best fit for your wardrobes. 
Watch Strap Color For Warm Tone Wardrobes
For warm wardrobes colors, we recommend you pick a black or dark brown watch strap. These colors will be the most suitable. However, you could consider orange or yellow if you like something that has contrast. Do avoid green or purple as they are not appropriate colors for warm tone wardrobes.
Watch Strap Color For Earth Tone Wardrobes
A watch strap color rule here is picking olive, earth grays, or browns. If you love contrast, selecting black or a little brighter color would be good. Medium brown is the best and popular color in this case, even when you are not sure which colors to choose. Just make sure you don't select too light colors, as it will make your watch look washed out. 
Watch Strap Color Matching With The Case
For Stainless Steel Case
A dark blue and gray strap is a suitable combination for stainless steel cases. And shades of brown are also an excellent match for stainless steel, as brown is warm and steel is a more relaxed tone, they have the contrast that makes them look good together.
Stainless Steel Case with a gray strap would look balanced. When choosing a gray color for your strap, check the dial and luminous color to pick the best grey.
For the Gold color case
A black strap will make your watch and case luxurious and classy. Red combined with a gold case is also a great thing to consider. This combination even has a meaning in China: gold and red are symbols of luckiness and wealth. If you don't like red but a darker color, then a reddish-brown color can be a great fit. A gold case and dark blue watch strap are two colors going well with each other. You might see this combination before. It is a fantastic watch strap color guide for you to follow, as it gives you a luxury feeling. 
Pick Watch Strap Color Matching The Lume (luminous)
Selecting the best color for watch strap according to the lume is also good watch strap color rules. The lume can be any color. A dark color watch strap could be fitted with light lume color, while a lighter color strap works well with dark lume color. It will add an attraction and sophistication to your watch. 
Conclusion
We hope those watch strap color rules will make it easier for you to pick your watch strap. Selecting the color of watch straps could depend on your watch dial, your wardrobes, or even your case. 
However, this is only for reference. You could select whatever color you want as well as it fits your liking and your personality. Be confident with every watch strap color you wear. We believe you could choose for your watch a perfect watch strap color.