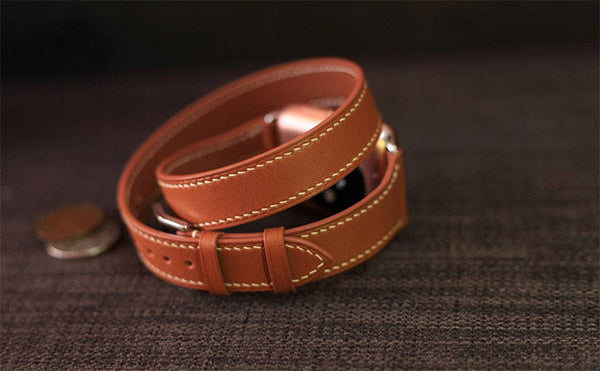 Barenia Leather: One Of The Rarest Leather Types In The World
Barenia leather is the leather type used to make premium leather products such as wallets, bags, watch straps. Aug Leather and famous brands like Hermès use this kind of leather as a popular primary material. Barenia is rare, expensive, and high-quality. So what really makes Barenia high-end leather? This article will show you everything about Barenia. 
What Is Barenia Leather? 
Barenia is smooth leather with a hint of gloss made from calfskin. Barenia leather has a silky, soft buttery look and just the perfect amount of gloss, making this leather type more vibrant than ever. In the past, it was used to produce Hermès saddles. In the 1970s, Barenia first appeared in Hermès bags. 
Today, Barenia Leather is used by big brands like Hermès or Louis Vuitton and some local brands, like Aug Leather. Barenia is water-resistant and scratch-resistant, which makes it a durable and high-end material. Over time, although it appears to have a patina, this type of leather still looks better when aging. 
Production Process Of Barenia 
Barenia requires a complicated and time-consuming tanning process known by only a small number of people. Barenia leather has a double tanning process in chrome and vegetable dyes. It then goes through the process of absorbing oil by being soaked in 9 different types of oils for over 5-6 weeks. As a result, Barenia leather is beautiful, soft, and gets a smooth look by being tanned with vegetable dyes and absorbing high-quality oils. 
Barenia Leather Characteristics
Barenia Leather Surface
It has a highly smooth surface with just a hint of gloss. This leather type matures and develops a patina when aging due to its oil quality and absorbing oil. You could spot how old it is when looking at the white stitching or its blind stamp. Barenia leather becomes darker in the areas that are being touched often and becomes softer over time. 
Barenia Leather Durability
Products made from Barenia are scratch-resistant thanks to the ability to absorb the oil. However, Barenia is more prone to scratches than other leather types. For Barenia, fine scratches can be removed easily by rubbing away, but more heavy scratches might cause marks on the surfaces of this leather, which makes Barenia picky for users. 
Barenia Leather Elasticity 
Barenia's elasticity is not relatively good, as it is easy to lose shape. This leather is also water-resistant, making the watermarks less noticeable, and you don't need to worry that it would wet easily. However, you should avoid getting Barenia leather to come into contact with water for a long time or too frequently.  
Barenia Leather Products
Barenia Leather Bags
Barenia leather is used mainly in bags to create a unique and smooth look. Barenia bags would have patina over time, but this will make the bags more beautiful and precious. 
Barenia Leather Watch Straps
This leather is also used in leather watch straps to give a luxurious feeling to your watches. At Aug Leather, we used many high-end leather types to create beautiful and high-quality watch bands, and Barenia is one of them. 
Barenia Leather Wallets 
Barenia is soft and rare, making it a good material for small products, such as leather wallets. 
How To Clean Barenia Leather
Barenia leather is not so hard to clean. If you notice your Barenia leather products get dirt and moisture on the surface, they could be cleaned easily by wiping with suitable wipes for leather or soft cloth. If you use a damp cloth to clean your Barenia leather, you should re-wiping it with a dry cloth after that.  
If you want to take a deeper cleaning and caring for your Barenia leather products, you could get them for treatment. However, we recommend you condition your Barenia leather at most once each season so it won't be weakened. You should also leave your Barenia leather away from direct sunlight and in cool, dry places to keep it better. 
Aug Leather Uses Barenia To Make Premium Leather Watch Bands
At Aug Leather, high-end Barenia Leather is used in each of our handmade leather watch straps and many types of watches: Apple watch straps, Rolex leather watch straps, Omega watch straps, Panerai watch straps, Seiko watch straps, as well as Vintage watch straps.  
Unique characteristics, luxury, and high quality of Barenia Leather with our highly experienced craftsmen make Aug Leather's handmade leather watch bands the most premium, stylish, and luxurious leather products ever. If you consider selecting a watch strap or material for your watch bands and other leather products, you could contact us for advice and consultation. 
Conclusion
Barenia - the most premium, expensive and rarest leather with unique characteristics make the most beautiful leather products. We hope you have discovered new things about Barenia and be able to choose the most suitable material for your leather products.