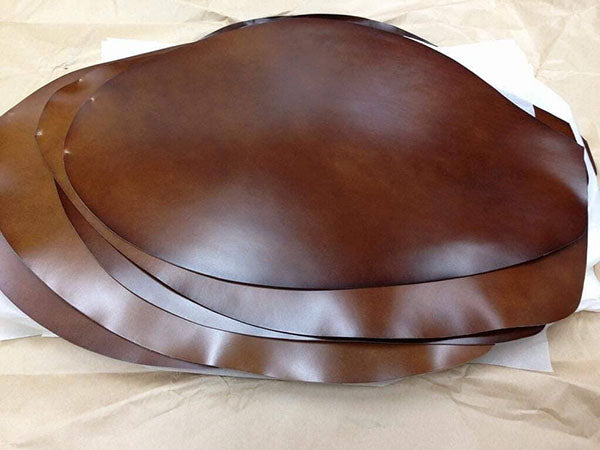 Shell Cordovan: Facts About The Most Luxury Leather Ever
Shell Cordovan, the most expensive and premium leather, is used widely in many high-end leather products. Are you considering choosing a good material for your leather watch bands, leather shoes, or wallets? These are some interesting facts about this luxury leather that you would be excited to know. Explore things about shell cordovan leather, and maybe you will then select this leather as the best material to make your leather goods. 
What Is Shell Cordovan Leather? 
Shell Cordovan is known as horsetail leather. However, a fascinating fact is that Shell Cordovan was goat leather and not horse leather at the beginning. The word "Cordovan" also refers to a deep red to a shimmering purple. Because Shell Cordovan leather is non-creasing and smooth, it is a favorite material for making shoes, wallets, and other leather products. 
History Of Shell Cordovan
The first use of horse skin was in the 7th century by the Visigoths and later by the Moors. Shell Cordovan derives its name from the city of Cordoba, a famous town of leather tanning in Spain. From the 16th to 17th century, skilled craftsmen used Shell Cordovan to make wall hangings, trunks, armor, etc. 
It wasn't until the 19th century that shell cordovan is connected with tanned horsehide leather. In the early 20th century, shell cordovan was used widely to make razor strops, so it was a tough leather and focused on durability rather than aesthetics. 
However, American tanners upgrade the tanning technique to produce shell cordovan leather with softer and more suitable characteristics to make leather shoes. This leather type is recently used to make shoes, wallets, watch straps, and some high-quality goods because of its durability and aesthetic look. 
Shell Cordovan Characteristics
Shell Cordovan Durability
Shell Cordovan leather is exceptional and unique due to its excellent durability. This leather also has scratch-resistant features, and it could restore the scratched mark. As a result, it is premium leather to make high-end and expensive leather products, especially leather shoes. 
Shell Cordovan Surface
Shell Cordovan has connective tissue, so it has a highly smooth surface. Unfortunately, this unique leather structure is only present on horses. The main reason is that the horse pores are very thick, not visible by naked eyes. Although Shell Cordovan is not full-grain leather, it is extracted from the underlying layer of the horse skin surface, so this leather type is pore-free. 
In particular, this skin type isn't sanded and polished, so its surface still has scratches and fighting marks of the horse, which makes the leather natural more than ever. This characteristic is one of the things making Shell Cordovan unique and easy to be recognized from other leather types. 
Shell Cordovan Color
Shell cordovan is challenging to dye, so finished Shell Cordovan leather only has some primary colors. These are colors: Natural color, Whiskey, Brandy Brown, Navy, Black, Dark Pink. 
Shell Cordovan Water Permeability 
Like all other leather types, Shell cordovan is naturally absorbent, so we recommend using this leather type, don't let it in wet areas or contact with water for a long time. 
Why Is Shell Cordovan Pricey? 
The reason why shell cordovan is expensive is because of the short supply of horse skin and the high demand for this leather type. Only a small part of horsehide is used to make shell cordovan, making it quite rare. Besides, the tanning process of shell cordovan is long (about 6 months) and requires a lot of effort. Today, the price of shell cordovan on average is around $100 per square foot. 
Shell Cordovan Production Process
The primary raw material of Shell Cordovan leather is the leather from the horse's butt. The leather of the horse's rump area has high uniformity and good quality, making shell cordovan one of the most expensive leathers in the world. On the farms, people take great care of the horses to have beautiful leather. 
Shell cordovan takes up to 6 months for Horween and 10 months for Shinki Hikaku to finish the tanning process. Meanwhile, Industrial leather only requires about 24-28 hours of tanning. 
The tanners use a herbal tanning formula (including chestnut, quebracho tree bark, and resins) during the dyeing process, making the leather soft and has high-quality and excellent durability. After that, the hand treatments such as dyeing, polishing… will give shell cordovan leather deep color and smooth surface with mirror-like shine. 
Shell Cordovan Products 
Shell Cordovan Watch Strap
Because of its aesthetic look, shell cordovan gives leather watch bands an elegant and luxurious feeling, so it will add a layer of richness and beauty to your watches. 
Shell Cordovan Wallet
Due to the smooth surface of Shell Cordovan leather, it is a favorite used to produce wallets. 
Shell Cordovan Shoes
Shell cordovan with durable characteristics and smooth surface is a perfect material for making shoes, making the shoes long-lasting and aesthetic-looking. 
How To Take Care Of Shell Cordovan? 
Shell Cordovan is a premium and expensive leather, so it's not surprising that this leather type requires a unique caring process. These are 3 essential steps to maintain and take care of shell cordovan leather: 
Step 1: Cleanse and deeply nourish the skin with high-quality lotion.  
Step 2: Blurring the wrinkles with a smooth piece of deer bone. The deer bones need to be marinated with natural oil, making them smooth and not leaving scratches on the skin. 
Step 3: Color recovery and leather care: You could use high-quality shoe polish to recover the color of the shell cordovan. We recommend you choose shoe polish without pine oil in ingredients, as they will harm the color and durability of the leather.
Aug Leather Uses Shell Cordovan To Make The Most Premium Leather Watch Straps 
At Aug Leather, besides other materials like Epsom leather or Togo leather, we use Shell Cordovan to make the most premium and luxurious leather watch straps. Each leather watchband is 100% handmade by more than 5-year experienced craftsmen, which keeps our watch strap unique, aesthetic, and exceptionally durable. 
If you consider selecting leather watch straps or material to make your leather watches, wallets, and other accessories, you could contact us for advice and consultation. 
Conclusion
And that is everything about the facts of Shell Cordovan leather. Although it's premium and expensive leather, its characteristics would give leather shoes and accessories an unique, luxury looking, and high quality, as well as exceptional durability. So if you are considering selecting a perfect material to make shoes, leather watch straps, belts, or wallets, Shell Cordovan is an excellent leather type to be added to your list.